Date: Wed, 17 Jan 2001 20:36:20 EST
From: <Cakes05018@aol.com>
To: maddox@xmission.com
Subject: ur messing wit the wrong people dude!


i happen to like mtv. do you want to know y!!!??!! well, i going to TELL
YOU!!! first off, mtv is REAL. not like all those other stupid shows that
have mickey mouse running around!! i mean real, doin stuff no one else
would
do. you got to have some guts to do what they do. All they want is to
make
people laugh! what the hell is wrong wit that!! I also happen to like Mtv
because its cool! not boring like "surviver." and when you say, "Extreme
sports idiots" i hope you don't mean me, cause i am one of those people,
and
damn proud of it!! at least we don't sit on our ass all day like you and
do
nothing!!! that is all i have to say.


       mtv lover

---
Well excuse me all to hell. I guess I was wrong about MTV; this person makes a good point: MTV truly is real. Where else could I gain as much valuable insight about the real world than from a show titled "The Real World"? Dumbass.

I have a better idea: instead of watching the "real world" on TV, why not live in it? It's easy, all you have to do is turn off the TV and go do something. All sorts of "real" stuff happens in the "real world." You can ride a bike, eat a sandwich and you can even prove to the world that you're a dolt by sending me poorly written hate mail.

I'd have never guessed you watch MTV from the refined writing in your email. You ask what's wrong with MTV? They're the good guys after all, they only want to make people laugh, right? The producers, writers, celebrities, record labels, soda companies, clothing companies, agents, directors and a slew of corporate executives, managers, supervisors and accountants laugh all the way to the bank with the money of all the dumbasses who watch MTV and endorse the products of their juggernaut marketing campaign. Go on, watch their shows, laugh it up... they're doing things nobody else would do. Look everybody! A guy sitting in pig shit! That's good TV, call the kids.

MTV blows. The network claims to be so cutting-edge and anti-censorship, yet they're one of the most heavily censored networks out there. Thumbs down to its parent company Viacom. The people who make the decisions at MTV are cowards with no conviction. Sure, they'll act like they're mean shit when they show a breast or let a cuss word fly here and there, but when it comes to showing something completely uncensored, those pussies back down... why? Heaven forbid advertisers object to their content. Then how will the producers make their Lexus payments? Wake up. MTV is mind-rot bullshit, turn it off.
---
Date: Fri, 16 Jun 2000 22:12:47 GMT
From: captain kirk <im4goth@hotmail.com>
To: maddox@xmission.com
Subject: hipocrit!!!


you are are a judgemental son of a bithc who are you to jugde people who
choose to live the gothic life s5yle youre not them you dont know what
theyve been through it makes me so sad to see a pathetic dickless weener
like you wasting youre energy putting down other people you make me sick
gothic people make a diffence standing up for what they believe they dont
need cock suckers like you putting them down!!! eat shit and die!!!

---
Click on the image for my official response: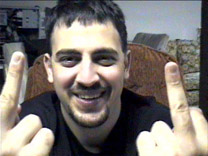 ---
Date: Thu, 13 Apr 2000 02:05:40 -0500 (EST)
From: ---- <--------@-----.--->
To: maddox@xmission.com
Subject: hate mail


jesus christ, what a fucking inept excuse for a webpage. loser! clearly
you have a tiny wee-wee. and are a shitty programmer too; a good one
wouldn't be stuck in a tiny cubicle with a shitty computer doing code
optimization for a company that treats him like shit. god! arrogant
prick, with no good reason to be!


why try to having grating opinions when really, you're just a dickhead?
christ almighty!


fuck off!


Note: name and email omitted.
---
What people usually don't realize when they send me hate mail, is that I find out everything I can about the person who sends it to me. The reason I withheld his name and email address is because within minutes of receiving this email, I found his personal home page, his full name, address, place of employment, resume, the name of his friends and family, his hobbies, interests, habits, his major, his phone number, several pictures of himself (worthy of posting on fugly.net), and even pictures of his family. Dumbass. I was going to go all out on this one and post everything, but I thought the email was kind of funny, so I emailed him back to ask if it was real.

In his response, the email signature contained the URL to his home page. DAMMIT. So, I figured that since he trusted me enough to send it (or he was too stupid to erase it), and because I laughed when I read this email, I'd go easy on him (and besides, the last time I threatened to do this to someone, he almost cried). Since I'm already in the spirit, I'll have some fun, so I'll post a bit from his resume:
Title: Consultant Support Specialist
Duties:
Managing, supervising, and leading consultants
Creating and maintaining consultant resources
Consultant interviews and evaluations
Hardware/tech support and repair

This was the most recent "work experience" he had, followed by:
Title: Computer Consultant
Duties: Hardware/software setup, Technical/customer support

I'm a shitty programmer? This coming from someone who landed a prestigious job doing technical support in a university computer lab? The lowest common denominator of computer jobs. I'd better be careful with what I say... I'm dealing with a pro. Just not a programmer. Way to go jackass.
---
Date: Fri, 3 Mar 2000 16:54:36 -0800
From: mafogg@mindspring.com
To: maddox@xmission.com


your a fucking asshole with a mouth
---
Short and to the point. I was bored, so I went rummaging through my logs to see how Aaron found my web site. It seems that he was using the excite search engine, and entered the following query:

http://search.excite.com/search.gw? search=a+page+for+losers+and+depressed+people

This query pulled up my gothics page (the only page he bothered looking at). Well Aaron, did you find what you were looking for? Dumbass. I was going to omit your name, but I figured that since you didn't take the time to look at anything else on my site, I wouldn't take the time to conceal your identity. Drop my pal Aaron here a line and tell him he's a dumbass.
---
Date: Mon, 22 Nov 1999 10:49:10 PST
From: r_mealey@hotmail.com
To: maddox@xmission.com


I recently stumbbled upon your web page, BY MISTAKE, and I would just like
to say that you are the biggest idiot I think I have ever met. You seem
like the type of moron that just sits at home and does nothing all day but
cry and whine. You see other people, who have ambition and are successful,
and then you think about your own shitty life and decide. Anyone who has a
better life than me, which is everyone is trash no matter how good of a
person they are. for example Donnie Osmond. He is fallen and worked his
way back up to the top so many times, and he has done it honestly not by
lying cheating and sleeping around. Yet to you he is a bad person because he
has been successful. Another Example is Ellen Degenerious. She took a
stand and told people she way gay even though she knew people would respond
negitively, yet she continued to be successful because she was honest and
stood up for what she believed. You should re-evaluate your own life before
you criticize everyone elses


First and last name omitted.
---
You stumbbled upon my web page by mistake eh? I have news for you: that's not the only mistake you've made. First of all, how can I possibly be the biggest idiot you've ever met, being as you've never met me? You criticize my satire and label me as a "type of moron that just sits at home and does nothing all day...," as opposed to just the regular type of moron? Okay, I'll play along. Let's assume that I am the "type" of moron that, in your words, "sits at home and does nothing all day." That'd make me a pretty big loser, wouldn't it? So if I'm such a loser that I don't have anything better to do than to sit around all day and criticize other people, what does that make you (now that you've criticized me)? Hmm.. what's the word that describes somebody that does something against what they preach? Oh that's right, a hypocrite.
You're obviously a fan of Donnie Osmond; I happen to think he's a shit-eater. Why? For the exact same reason you think he's great. Do you actually know Donnie Osmond? Have you ever met him? Do you have any idea what kind of person Donnie Osmond is, or are you just talking out of your ass? I've never met him either, so I'm not going to assume that he lives an honest, virtuous life just because he has a clean-cut/wholesome look on TV. So in this respect, you're really no different than I am, other than you choose to be suckered by his image, while I choose to be consistent with my personality. This leads me to the aspect of Donnie Osmond that I dislike the most: his personality (or lack thereof). Donnie is just not funny. He's not interesting. He's not witty, and I don't like to watch him. On what grounds can I justify this? My opinion. As with everything else on my page, it's MY OPINION. If I think Donnie Osmond is an asshole, or if I think he's a hack, it's my right to say so, regardless of what my reasons are, regardless of what some preconceiving dipshit thinks about me and my life. You can't dispute my opinion because my opinions ARE NOT INHERENTLY TRUE OR FALSE. They're just opinions, like anyone else's. My guess as to why Donnie Osmond has fallen so many times (assuming you're right), is because he's such a dipshit and people realize that he's a hack. The guy is lame. I realize that I couldn't do a better job than Donnie at acting, and that's why I have a real job. Maybe someone should let him know, because.. damn.
Next, you mention Ellen Degeneres. Ellen Degeneres is the queen of hacks. I watched her show several times before somebody had the good sense to cancel it, and it was pure shit. Ellen Degeneres is a no-talent lame ass that tried to cash in on her homosexuality. The entire premise of her sitcom, during the later seasons, was that she was gay. Guess what? Nobody gave a damn. Ellen Degeneres is not the only openly gay actor/actress in Hollywood. Marcy D'arcy, (Amanda Bearse) on Married with Children was openly gay in real life. Why didn't she spawn a shitty sitcom of her own, making a big fuss over who she likes to sleep with? Maybe because she knew better than to exploit her sexuality like that bitch Ellen did. Every time I see Ellen Degeneres, she makes me sick, and I can't stop barfing. She's the worst, and so are you. Find something better to do, and quit wasting my time with this bullshit.
---
Update:

Date: Wed, 10 Dec 2003 10:22:39 EST
From: <neveguy25aol.com>
To: maddox@xmission.com
Subject: fuckface


GO LICK SOME DIRTY ASSCRACK YOU NIGGER.


YOU ARE GOING TO GET THE SHIT KICKED OUT OF YOU. looking foward to
seeing you. dickless.
---
Date: Sat, 24 Jul 1999 15:29:10 EDT
From: Some jackass who doesn't know when to give it a rest <neveguy25aol.com>
To: maddox@xmission.com
Subject: At&t guy and cd's

hey man. the at&t guy is DAvid arquette. and he is only making a living by
acting so LAY OFF. And about the cd and tape thing. The only reason a cd
is higher than a tape is because a cd has DIGITAL encoding. any MORON knows
that. Guess you a lower than a moron.

BTW (it means By the way for retards) YOURE WEB SITE SUCKS!!!

---
David Arquette is only trying to make a living? Poor guy, let's give him some slack. I mean, he's a great actor.. he was in.. oh wait, not a damn thing. David Arquette is a hack, just like Tony Danza and Sinbad. The world has ENOUGH shitty actors. Could I do any better than Arquette? Probably not. So I guess that's why I have a real job. It would be great if everyone could be paid thousands of dollars for acting like a jackass on TV, but they can't. So who's to blame for that shitty AT&T commercial? Arquette, or the writers? Either way, the fact that the commercial was made remains. It wasn't funny, entertaining, informative or necessary, so it implies that the commercial was made purely out of greed. Pure profit is what they were aiming for, which is perhaps why they decided to go with a hack like Arquette in the first place. I mean, does the world really need another alternative to placing collect calls? Who benefits from this? Us? Or them?
Of course, most advertisers have the fundamental goal of increasing profit. Subtract from those the fraction of advertisers promoting a useful service or product, and the rest is garbage. Loud, shrieking, obnoxious garbage. If David Arquette had the good sense to decline the AT&T spot, I wouldn't be writing this today. But he didn't. He was greedy. Of course, he has mouths to feed too, right? If that's the case, then he can get a real job and bust his ass like everyone else. With that in mind, AT&T, their shitty commercials, and their whole collect calling division can go straight to hell for all I care.
Next, you babbled something about my music industry page. Of what I was able to derive from your broken english and poor grammar, you think the only reason a CD is "higher" than a tape, is because of "digital encoding?" By higher, I assume you mean more expensive. Regardless, you're wrong. First of all, what the hell are you talking about? Do you know what "digital encoding" is? By definition, it's the "conversion of each sample of a waveform to a number." What the hell does that have to do with the COST of a CD? Is there some new royalty fee for using a binary coding scheme that I'm not aware of? Or do you mean the digital to analog converter necessary to perform the conversion from within the player, in which case the cost of the CD player would be more expensive, as opposed to the CD itself?
The truth is that there is no significant reason why CD's continue to cost more than tapes. People are simply willing to pay the extra cost because they aren't willing to boycott, and manufacturers know this. That's why we continue to get milked almost twice as much for a CD than for a tape, even though CD's cost next to nothing to press. I don't claim to know all the facts, but I know when I'm being ripped off. Of course, that's something every moron knows right? Now that you know, that's one more moron you can add to your list (namely, yourself). BTW (and I use that acronym here out of spite), it helps to use correct grammar when you call someone a moron, jackass.
---
Date: Mon, 01 Mar 1999 15:50:02 -0700
From: <######>
To: maddox@xmission.com
Subject: you web page makes me weep


your web page was brought to my attention. my lawyer will be contacting
you soon.


enjoy being a egotistical feeling-invincible punk-ass kid while you can,
kid. when 30 sets in and fecal juice is bubbling out your ass 24/7, you
can't digest lettuce, cheese, beef jerky or anything other than paste,
and crossing a crosswalk makes you break out in hives cuz you know even
a coasting moped could crack your fossilized, calcified feeble frame
into a thousand splinters, well then... you can make a new web page that
says "i used to think i rule but i really sucked much ass but since i
realize it now i rule once again". hey it worked for kazynski, didn't
it? of course, he's getting a phenyol barbital enema as three militant
homosexual male nurses pin him down right at this moment.


aren't you the guy that tried to smoke the crystalline entity anyway?
and i know the only reason you hate people that speak in klingon is
because you speak fluent ferengi.

---
Woe is he who pisses off a Star Trek geek. Listen lameass, why don't you and all your Trek buddies get bent? Stop wasting my time with this bullshit.
---
Date: Mon, 1 Mar 1999 15:52:55 -0700 (MST)
From: spanky the wonder muppet < dipshit@random.rookie.net >
To: maddox@xmission.com
Subject: you suck lameass


Your page sucks ass. I get better e-mail spam from people i dont even
know. I would like to congratulate you on being the 7896776th person to
post a cleverly-worded 'guide to the internet' for our weary eyes to
stumble over. Whats up with the whole 'yellow jacket' babble? Did you
miss "Mad about You" one evening and write the whole thing out of spite?
You could be doing so much good in this world. You could start by playing
in traffic.


Every night I ask Jesus to kill you.

---
Seems like a pretty pissed off fellow, or is he? Only one way to find out: spam him with hate mail. Drop him a line, tell this Helen Hunt loving lame ass who the real asshole is.
---
Here's the disclaimer if you want to send me hate mail (Note: I decide what's hate mail and what's not):
Disclaimer:
By sending me hate mail, you acknowledge that I own all rights to the entire contents of your message, any images sent with the message, your email address, your house, your car, your first born and your soul. Furthermore, you agree to make your email address publicly available on this or any other web site, and you accept my views and opinions as being right regardless of anything. Furthermore, you agree that it is okay for me or anyone else to slander and/or libel you on this or any other web site, in public, at your place of employment, or anywhere else in this or any other universe and/or dimension. Know that sending me hate mail is a request for character defamation, endless belittling and excessive mockery. You may not sue me for any reason, ever, and this disclaimer is subject to change without notice, and you are still subject to the rules regardless of any changes made. If you do not agree with these rules, then don't send me hate mail.
---
Oh, and by the way: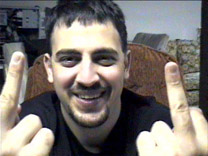 go away.